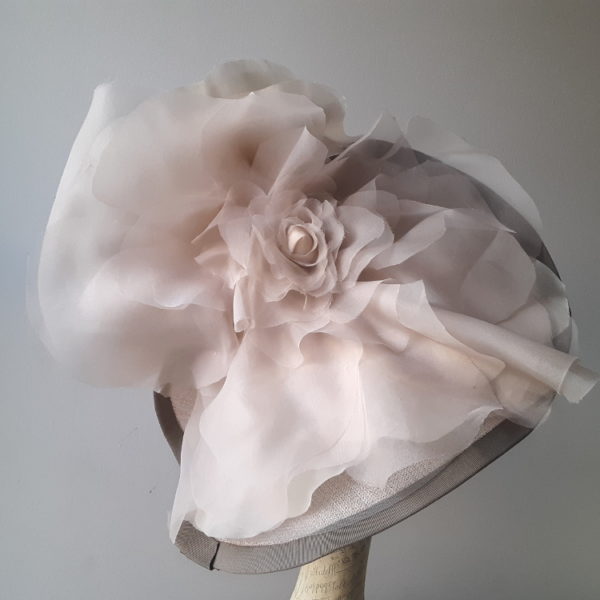 Learn how to make your own gorgeous silk flowers in this Online Flower Making Class workshop hosted via Zoom.
This is a beginner level workshop, no prior experience necessary.
Join Kentucky Derby fascinator professional Lisa Shaub for our two hour Online Flower Making Class where we create hand made flowers from beautiful materials that will be sent to you in a kit. You can make yours big or small, over-the-top unique, and paparazzi flashbulb worthy.
Grab some friends online, and fire up your imagination!
This class may be scheduled as a private or a group class. at a time that works for your schedule.
Cost including materials: $150 per person
To register please contact us.
In this online art craft class you will learn to:
1. Create  flower petal shapes and hand paint in your colors.
2. Put your flowers together.
3. Shape and sculpt your flowers.
Lisa will show you every step of how to make your flowers, how to create depth with color and sculpting, and make other trims, such as leaves.
Materials list:
You will be sent a kit of materials for the class. The colors and shapes will be premade and pre-determined by you.
Most materials and shipping costs are included in the class costs.
You will also need the below for the class
alcohol
needle and thread
sharp scisssors for fabric
pencil
plastic containers for paint
pins
A glue gun and glue sticks. We recommend ADTECH mini glue gun.
A curling iron, or a steam iron
a small pillow
cocktail or mocktail in a beautiful glass, and/or some yummy snacks
Virtual Class FAQ
What will be included in my Virtual Class package?
One ticket includes an access link to your live, online class. The class will be delivered via ZOOM web conferencing software. You will have the opportunity to ask questions during the class.
Will I need anything from home to use in the class?
You will need a reliable Internet connection as well as a computer or device with which you can access your virtual class. We recommend you arrive to class 5 minutes early to ensure you're able to set up your device and audio & video connection. Additionally, if you'd like to participate, you will need the materials and/or equipment listed in the description above.
Am I able to ask questions or interact with the class?
Yes, you'll both be able to ask questions using the chat function in the video hosting software as well as at certain intervals during the class via voice/audio. If the class winds up being on the smaller side, more spontaneous interaction/questions will be encouraged.
Remote Learning
This course is available for "remote" learning and will be available to anyone with access to an internet device with a microphone (this includes most models of computers, tablets). Classes will take place with a "live" instructor at the date/times listed below.
Upon registration, the instructor will send along additional information about how to log-on and participate in the class.